Recently, John Lee Ka-chiu, HKSAR Secretary for Security, officially appointed Calvin Choi, Chairman and CEO of AMTD Group, Founder and Chairman of AMTD Foundation, as a member of the HKSAR Prisoners' Education Trust Fund Investment Advisory Committee for a term of three years with effect from 1 December 2019. The new HKSAR Prisoners' Education Trust Fund Investment Advisory Committee consists of five members including Calvin Choi with Stephen YIP Chun-nam, B.B.S., M.H., J.P., Chairman of Wing Hing Leo Co. Ltd., Member of Henan and Shantou CPPCC, Vice Chairman of HKSAR Security and Guarding Services Industry Authority, Executive Vice President Deputy Secretary General of Federation of Hong Kong Guangdong Community Organizations and Vice Chairman of Federation of Hong Kong Guangdong Community Charitable Foundation as the president.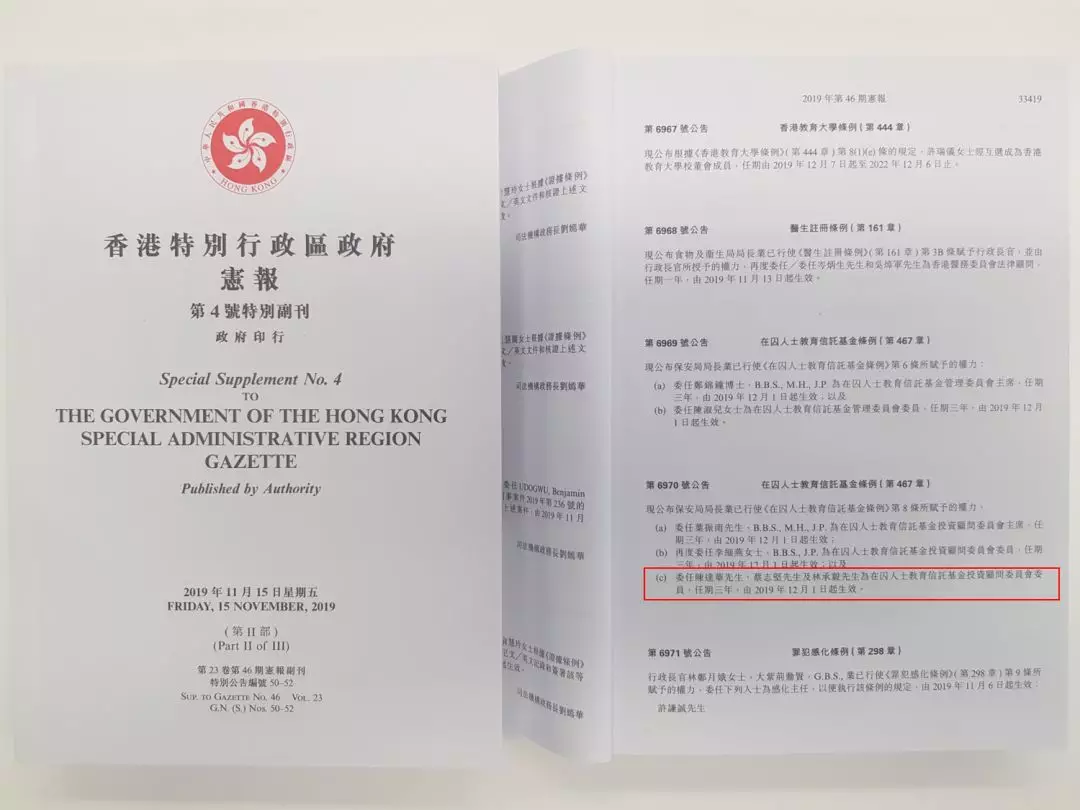 To support and assist motivated prisoners, who however are in need of financial resources to pay for the required fees, the Prisoners' Education Trust Fund was established under the Prisoners' Education Trust Fund Ordinance (Chapter 467, Laws of Hong Kong) in December 1995. The purpose of the Fund is to provide financial assistance to individual prisoners, on application, in their effort to obtain education and to provide educational facilitates for prisoners.
As a comprehensive financial institution rooted in Hong Kong, based in the Greater Bay Area, neighbor to China and facing the world, AMTD has always been committed to contribute to the prosperity and stability of Hong Kong, especially the cultivation and education of young generations in Hong Kong. Calvin Choi, Chairman and CEO of AMTD Group, established AMTD Foundation which has always been dedicating its efforts and resources to fulfill its corporate social responsibility, serving the community and building a better Hong Kong. AMTD actively supported, participated in, and helped establish the "Greater Bay Area Homeland Youth Community Foundation", where Calvin Choi was appointed as Vice Chairman of this foundation, and continued to support the youth exchange program and entrepreneurial training for youths in the Greater Bay Area. Calvin Choi was also appointed as the Honorable President of Hong Kong Army Cadets Association, to encourage and support Hong Kong young generation by providing training to strengthen their will, as well as learning discipline, teamwork, and hardship, and to prepare them to contribute to the growth of Hong Kong and serving the community. Furthermore, AMTD Group has joined with Hong Kong Polytechnic University (PolyU) to launch Hong Kong's first university-industry collaborated Financial Technology (FinTech) centre, "the AMTD FinTech Center of PolyU Faculty of Business". AMTD Group and the University of Waterloo also jointly established "University of Waterloo-AMTD Innovation Hub" in Hong Kong and launched the "AMTD UWaterloo Global Talent Programme" and "AMTD Waterloo Global Talent Post-Doctoral Fellowship Program" together with Dr. Feridun Hamdullahpur, President of University of Waterloo, and Ms. Donna Strickland, the 2018 Nobel Laureate in Physics and a Physics Professor at the University of Waterloo.