The evolution of digitalisation is rapidly shaping the future of professional services industry, offering infinite opportunities and inspiring innovation and solutions. Reimagining commercial models and business processes, developing employee engagement, and enriching customer experience are all approaching a digital tipping point. At the leadership level, diversity is a key area of focus in the professional services industry. Recently, a panel of 5 distinguished women leaders have shared their views on gender diversity and women leadership, as well as discussing how women leaders are harnessing the power of digitalization.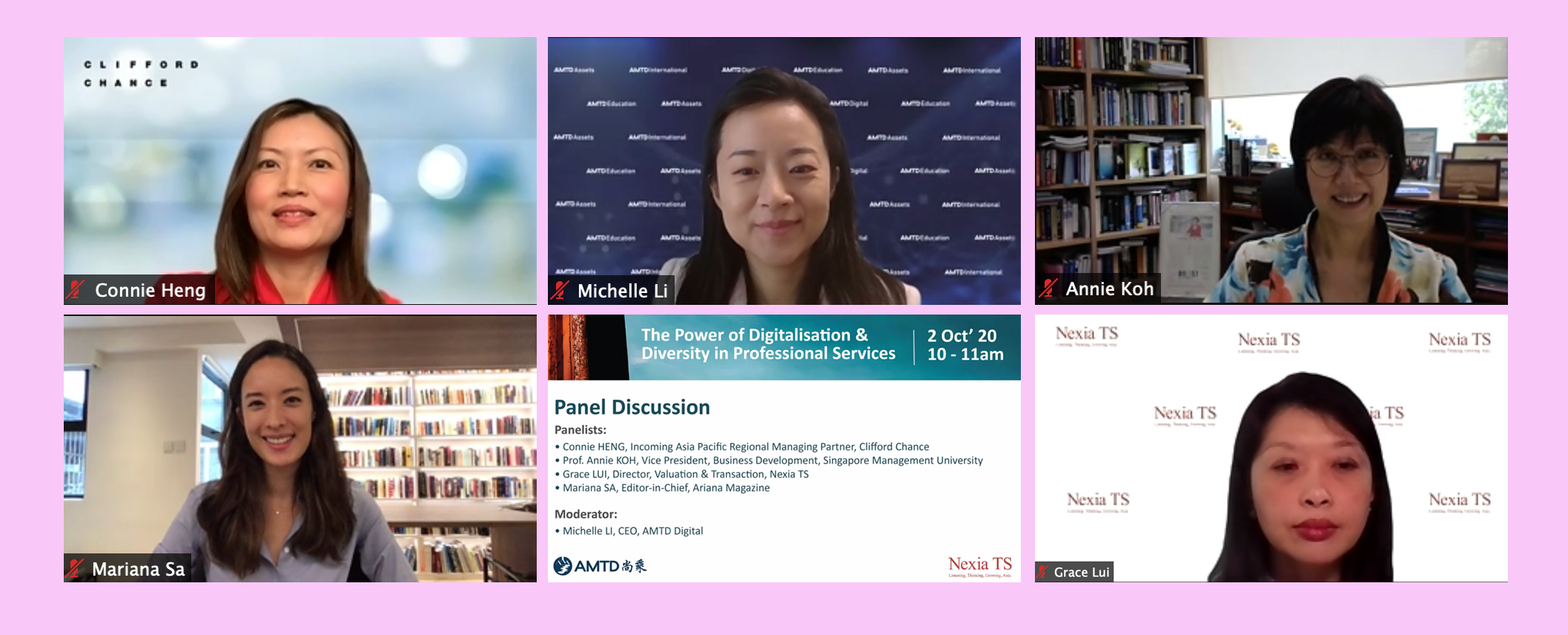 The panel was moderated by Michelle Li, CEO of AMTD Digital, with speakers including Prof. Annie Koh, Vice President, Business Development of Singapore Management University; Connie Heng, Incoming Asia Pacific Regional Managing Partner of Clifford Chance; Grace Lui, Director, Valuation & Transaction Services of Nexia TS; and Mariana Sa, Editor-in-Chief of Ariana Magazine.
Click here to replay the panel discussion
According to Prof Koh, even though student composition has roughly equal gender ratio, and in Singapore 60% of workforce is female, but as one moves up the corporate ladder, statistics show that only 23% of women are in senior management role, with only 9% of business have female CEO. However, Prof Koh believes that male and female are equally capable, including their leadership skill, but women historically has more roles to fulfil outside of work, and often has to choose between work and family. As such, to groom more women leaders, companies need male champion to support women to take on leadership role; in fact, the COVID-19 pandemic with people working from home is a catalyst to drive the rise of women leadership, as male leaders are also working from home and begin to appreciate the importance of balancing work with family commitment.
As the Incoming Asia Pacific Regional Managing Director at Clifford Chance, Ms. Connie Heng said that digitization has started some 15 years ago in the legal professional, but were mainly focusing on environmental friendly initiatives such as going paperless. However, starting from around 5 years ago, digital transformation has gained traction, and at Clifford Chance, they embraced this in 3 different ways: provide upskill/reskill opportunity, promote innovation, and redefine job family. With the Clifford Chance Automation Academy and Clifford Chance Technology Academy, their staff are given the opportunity to learn new skills and acquire new knowledge. By collaborating with the Economic Development Baord adnd the Singapore Academy of Law, Clifford Chance has launched "Create+65", a LegalTech innovation lab providing opportunities for lawyers to work with startups to develop innovative solutions, offering tools and systems that may not necessarily require existing programming knowledge – thus allowing more female to take part in innovation. Thirdly, the firm has redefined its job families so leveraging technology, staff has a wider range of new job functions that allow for more flexibility, and can cater for both work and family, which will be beneficial for female to take on more senior roles.
As a tenured senior executive at Nexia TS, Ms Grace Lui cannot stress enough how a company's management having the right mindful and company having the right culture is beneficial to grooming women leadership. Take Nexia TS as an example, the company is ahead of the industry with over 40% of management being female. And riding on the digitalization trend, Nexia TS has adopted many of the automation initiatives which has already yielded many benefits, including improvement in overall work efficiency, staff empowerment, enhanced client service delivery and engagement. Leveraging blockchain technology, Nexia TS has also build a digital signing domain to track key documents and protect its integrity. Grace believes that all these are important factors that will continue to contribute to the company's aim to diversify its workforce, providing more opportunities for women to rise in the ranks and offer different perspective on how to improve work environment and further promote diversity.
Running the Ariana Magazine tackling social issues in HK with a focus in women, its Editor-in-Chief Ms Mariana Sa sees how the pandemic has caused millions of job loss worldwide, and driving changes around the world. However, she also sees the people's resilience in weathering this storm, and in particular, characteristics such as compassion, empathy, understanding allows women leaders to adopt to the new norm caused by the pandemic more easily. As such, she believes that leadership is no longer the traditional sense of command and control, but rather, leaders under the new norm should show characteristics such as resilience, flexibility, collaboration & care, which historically were those characteristics demonstrated by women leaders. Therefore, Ms. Sa sees the pandemic as an opportunity for more women leaders to rise in the ranks, but she also encourages male leaders to adopt and embrace these characteristics at the same time.
The panel concludes with the speakers re-emphasizing that to promote diversity in leadership role requires the right tool and support, correct mindset and culture, management understanding of women's different needs and multiple roles in society, and the company's willingness to embrace diversity, not only gender, but diversity in age, culture, geography. These are all important factors that we uphold and commit at AMTD to ensure success for women leaders in the new digital world.