Invited by CNBC, Calvin Choi, Chairman and CEO of AMTD Group, and H.E. Mohammad Ali Al Shorafa Al Hammadi, Chairman of the Abu Dhabi Economic Development Department and Member of Abu Dhabi Committee had a fireside chat on the science and technological cooperation between the East and West in the new economic era, in order to enhance the development of science and technology and embrace the scientific and technological transformation.
Calvin Choi, Chairman and CEO of AMTD Group, said that the two areas of investment the company are most interested in are digital finance license and strategic investments, as well as innovative and fundamental technologies investments. Airstar Bank, jointly established by AMTD and Xiaomi, successfully secured one of the eight virtual banking licenses granted by the Hong Kong Monetary Authority. Leveraging Xiaomi's powerful IoT consumer platform, along with AMTD's solid foundation and rich experience in Hong Kong's financial markets, Airstar Bank will offer an excellent user experience. At the same time, AMTD has joined hands with SP Group (one of Singapore's largest companies), Xiaomi, and Funding Societies, to apply for digital wholesale banking license in Singapore. Moreover, AMTD International (NYSE: HKIB), a core subsidiary of AMTD Group, is the most profitable independent investment bank with the largest market capitalization in Asia, and is the first Hong Kong-based financial institution to be listed in the United States and one of the top five independent investment banks listed on the New York Stock Exchange, with a market capitalization of over US$2 billion. AMTD International recently announced its plan for a secondary listing on the Singapore Exchange this year. Choosing Singapore Exchange as the first Asian listing location for AMTD International demonstrated AMTD's sincerity and commitment to the Singapore market. At the same time, AMTD will also bring more Asian enterprises to list and issue bonds on the Singapore Exchange. It is worth mentioning that AMTD has continued to invest in Singapore's Fintech area in the past few years. Since 2017, AMTD has been the largest sponsor of Singapore Fintech Festival for three consecutive years. In addition, AMTD is the founding corporate member of Asian Financial Innovation Network (AFIN), and Mr. Calvin Choi has joined the AFIN's board. Mr. Calvin Choi was also awarded the "Asia Fintech Leaders of 2019" by the Singapore Fintech Association. Furthermore, besides the achievements and investments in the field of technology, AMTD Property Development Group, the real estate arm of AMTD Group, acquired Oakwood Premier AMTD Singapore, the landmark serviced apartment and hotel located in Singapore, with an investment of S$289 million, and became the controlling shareholder of the property. AMTD Property Development Group has also acquired 50% of the ownership of iClub Sheung Wan Hotel II, the landmark of Hong Kong Sheung Wan, at a cost of HK$600 million.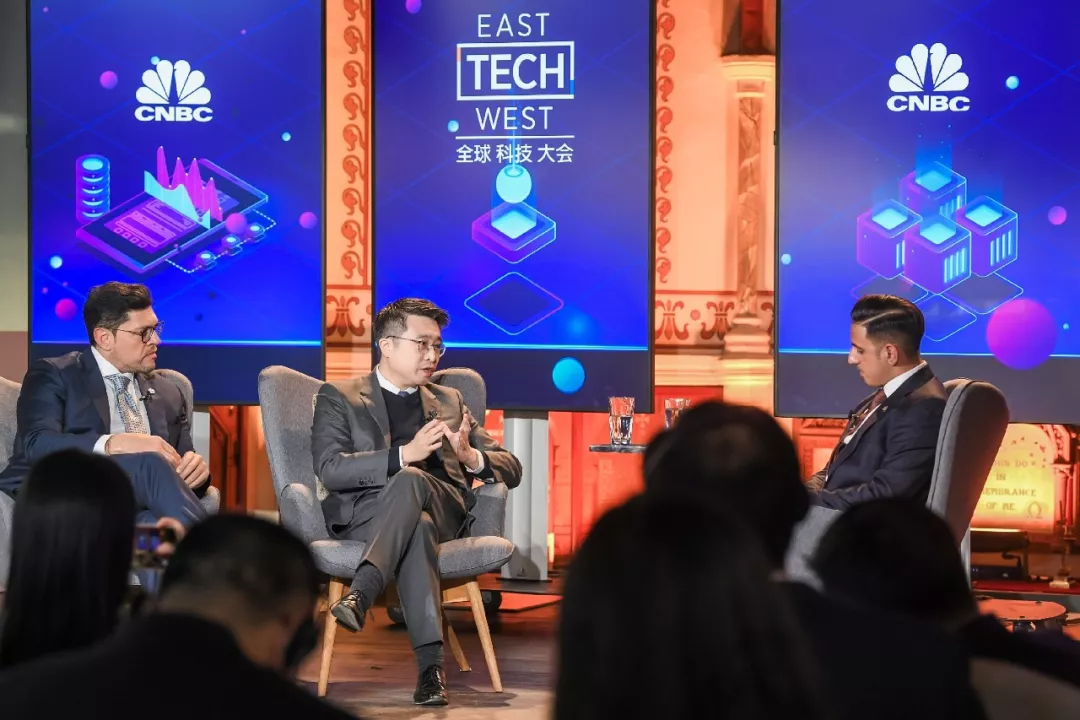 Calvin Choi also pointed out that, as the most internationalized city in China, Hong Kong connects China with the world, and has strong compatibility. Therefore, AMTD has lots of opportunities in Hong Kong to serve as the super-connector, bridging global capital resources and investment opportunities. As there are more Chinese tech giants expanding their business into Hong Kong, we don't see it as threat or challenge to AMTD's development. On the contrary, as these super Chinese power become more global, there will be more business opportunities created for AMTD as the super-connector and more room for financial and technological cooperation.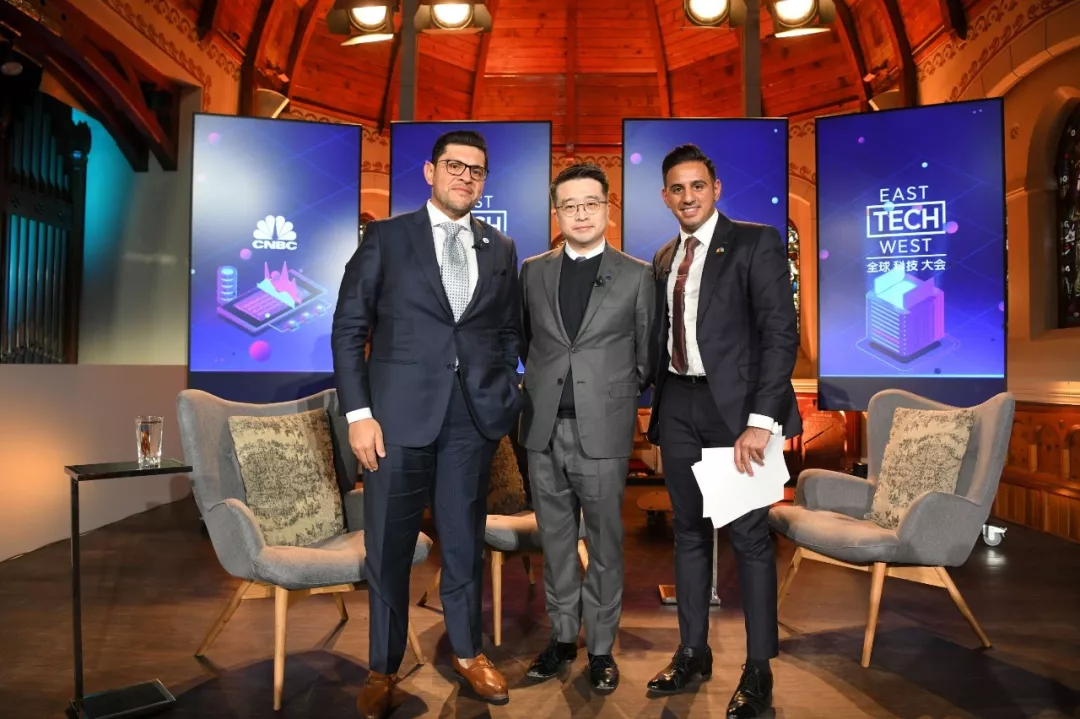 Calvin Choi (center) with H.E. Mohammad Ali Al Shorafa Al Hammadi, Chairman of the Abu Dhabi Economic Development Department and Member of Abu Dhabi Committee (left), and CNBC senior editor Arjun Kharpal (right)
Lastly, Mr. Choi shared his vision on the development of artificial intelligence. First, as an investor, AMTD wouldn't want to miss the opportunity to invest,and has taken steps to prepare for the next stage of development and integration in AI, automation, and financial technologies. Furthermore, as AI or financial technologies are becoming more efficient, we shouldn't be too worried about manpower. Ultimately, it's really about how to deploy the different resources in a more efficient way, and how to upscale the human resources into different verticals correctly. Therefore, AMTD focuses a lot on education and skill development. In Hong Kong, AMTD Group, AMTD Foundation and the Hong Kong Polytechnic University (PolyU) jointly launched Hong Kong's first university-industry collaborated Fintech centre "AMTD Fintech Centre of PolyU Faculty of Business", supporting more technical talents who have international vision and innovative consciousness in the Greater Bay Area. In Southeast Asia, AMTD, Xiaomi, Singapore Management University (SMU) and the National University of Singapore (NUS) established the 'Singapore Digital Finance Leadership Programme' to hone the management and leadership capabilities of the digital finance leaders in Singapore and beyond. In addition, AMTD and the University of Waterloo also jointly launched the "AMTD Waterloo Global Talent Post-Doctoral Fellowship" programme and established the "University of Waterloo-AMTD Innovation Hub" in Central, Hong Kong.
HE Mohammad Ali Al Shorafa Al Hammadi, Chairman of the Abu Dhabi Economic Development Department and Member of Abu Dhabi Committee, indicated that Abu Dhabi will establish an appropriate ecosystem, be it from a legal/regulatory as well as R&D perspective, to promote technological transformation and attract technical talents. He also welcomes prominent Chinese companies, as represented by AMTD, establishing business in Abu Dhabi by excellent Chinese companies, and will seek more cooperation opportunities with AMTD in different fields in the future.