Recently, Far East Consortium International Limited ("Far East Consortium" or the "Company", 35.HK) successfully priced its US$250m senior guaranteed perpetual capital notes (the "Transaction") under its US$1bn Medium Term Notes Programme ("MTN"). AMTD acted as a Joint Bookrunner and Joint Lead Manager on the Transaction. The Transaction is Far East Consortium's first ever perpetual capital notes issuance and its first international bond offering since 2017. This Transaction also represents the second capital markets transaction led by AMTD for the Company since the 5-year US$300m 3.750% senior bond offering in Aug 2016, reflecting a solid long-term cooperation and relationship between the Company and AMTD.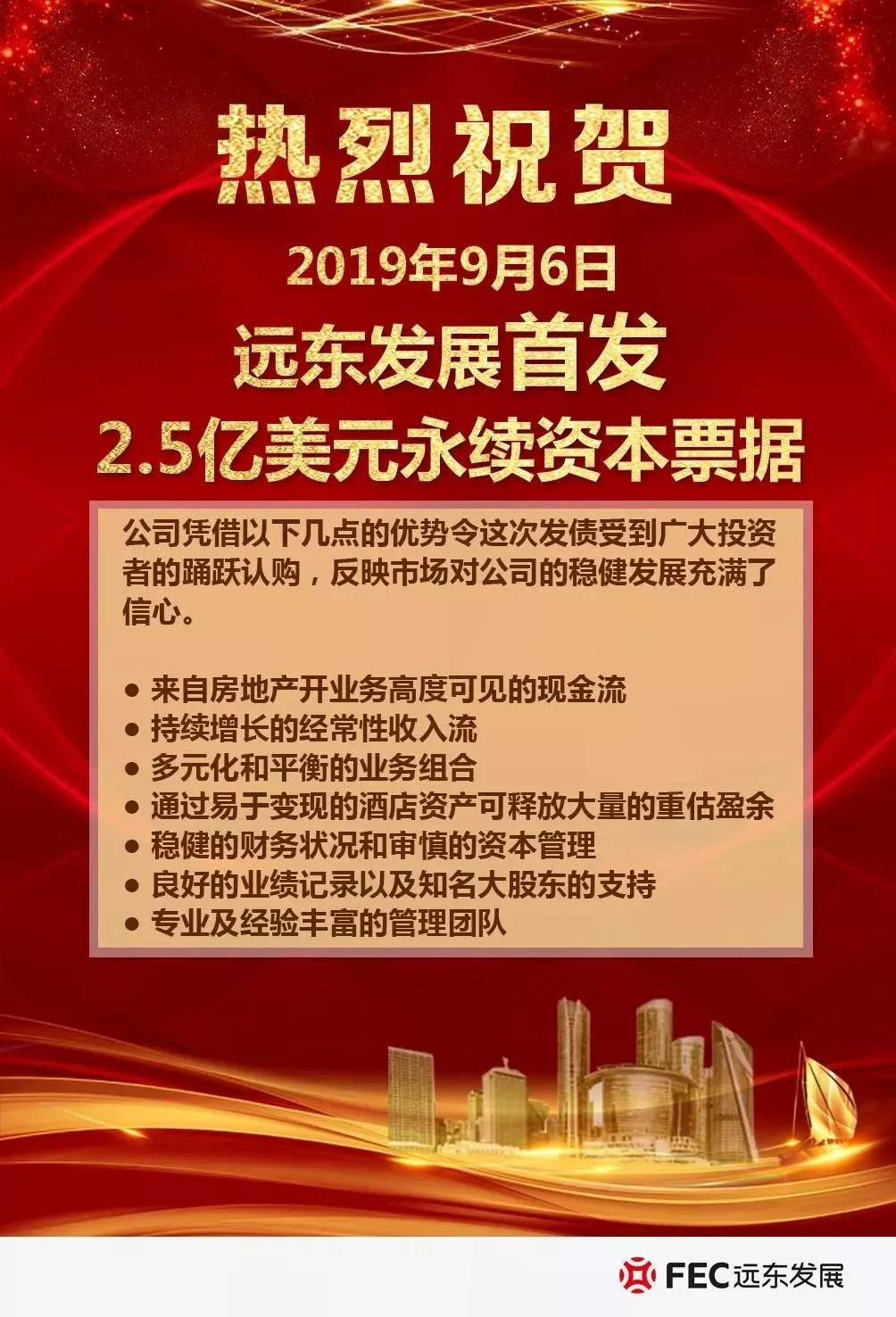 Far East Consortium is a leading conglomerate in Hong Kong and has been listed on the main board of the Hong Kong Stock Exchange since 1972. The Company has property development and investment, hotel operations and management, car park operations and facilities management, securities and financial product investment and gaming operations in Mainland China, Hong Kong, Malaysia, Singapore, Australia, New Zealand, the United Kingdom and Continental Europe. The Company implements the "Asian Footprint" strategy to benefit from the growth in consumption and investment from the expanding Asian middle class.
Far East Consortium issued the PerpNC5.1 bond through its wholly-owned subsidiary FEC Finance Limited, with 7.375% coupon rate starting from 18 April 2020 and paid semi-annually thereafter. The first reset date is 18 October 2024, and coupon step-up margin is 300bps.
After securing solid high-quality anchor orders and receiving positive investor feedback, and under the leadership of the Company's management team and advice from the syndicate group, the Company successfully completed an intra-day bookbuilding and pricing of the Transaction. The success of the Transaction benefited from the strong cash flow from property development business, growing recurring income, diversified and balanced portfolio of businesses, substantial revaluation surplus being unlocked via easily-monetisable hotel assets, sound financial position and prudent capital management, proven track record and support from reputable major shareholders and dedicated and experienced senior management team. The Transaction was met with overwhelming demand from the international capital markets, fully demonstrating the Company's strong operation and financial strengths and strong brand-name recognition by market participants.
AMTD is a Hong Kong-based financial institution benefitted from the rapid economic development of China. In its 16-year of development history leveraging the social and economic prosperity of Hong Kong and Mainland China, AMTD has been making significant contributions in providing financial services to Hong Kong-based corporates and the overall Hong Kong society. AMTD is dedicated to serving and connecting capital and resources across Mainland China, Hong Kong and globally. AMTD has repeatedly assisted Hong Kong conglomerates including Far East Consortium (35.HK), New World China (New World Development (17.HK)'s flagship in Mainland China), Sun Hung Kai & Co. (86.HK), Regal Hotels (78.HK), Emperor International (163.HK), CSI Properties (497.HK) etc., in picking the best market window and completing offshore bond issuances in the international capital market.