AMTD Group announces to be the Sole Financial Advisor of UCAR B+ round US$60mm financing
As a Hong Kong-based, Asia-focused leading capital markets & advisory, asset management and insurance brokerage platform, AMTD Group Company Limited ("AMTD Group") is pleased to announce to be the sole Financial Advisor in UCAR's B+ round financing of US$60mm.
On 14 January 2016, AMTD Group was invited to attend the UCAR's first shareholder meeting, which is also a ceremony for the establishment of Shenzhou Youche Company Ltd. Mr. Wang Fan, special assistant of President of AMTD Group attended the meeting.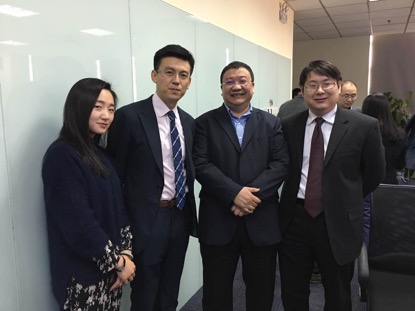 UCAR is a leading brand in China internet industry and is one of the largest chauffeured car service providers in China, covering 60 cities nationwide under the brand UCAR (Shenzhou Zhuanche). Its unique business model differentiates itself from other players who rely heavily on the use of unlicensed private cars and crowd-sourced drivers. Through a combination of professional drivers and quality rental vehicles, UCAR is committed to guaranteeing safe and standardized travel services for its customers. UCAR attracted strategic investors and professional institutional investors ever since its establishment, including Warburg Pincus (the largest private equity fund in the U.S.), and Legend Capital etc.
Shenzhou Youche Company Ltd is UCAR's operating platform in China and will serve as a solid foundation for UCAR's official landing in China's capital market. Mr. Cong said that AMTD Group is very optimistic about the prospect of "big traffic" concept of China's Internet industry, as well as UCAR's professional servicing model. AMTD Group will continue to provide strong support to the company in light of its further expansion in China, the innovation of business model and other capital market activities.