CM New Energy Strategy Seminar successfully held in Hong Kong
Various international investment institutions are optimistic about their innovative strategies and business model
On 11 May, 2016, AMTD Group, as the Main Sponsor, successfully organized and coordinated Strategic Dialogue with Direct Investment and Investment banks in Hong Kong for its strategic partner China Minsheng New Energy Investment Co., Ltd ("CM New Energy"), which is a wholly owned subsidiary of China Minsheng Investment Corp., Ltd ("CMI"). International investment banks represented by UBS, JPMorgan, Citigroup, GF Holding Hong Kong, ABC International, investment institutions represented by Capital Link, RRJ, PAG, ACA Capital, NEO Capital and Henderson, and professional firms represented by Sidley Austin and PwC attended and had in-depth sharing with the management of CM New Energy. Mr. Han Qinghao, President of CM New Energy, and the core team from CM New Energy attended the meeting, accompanied by senior management of AMTD Group.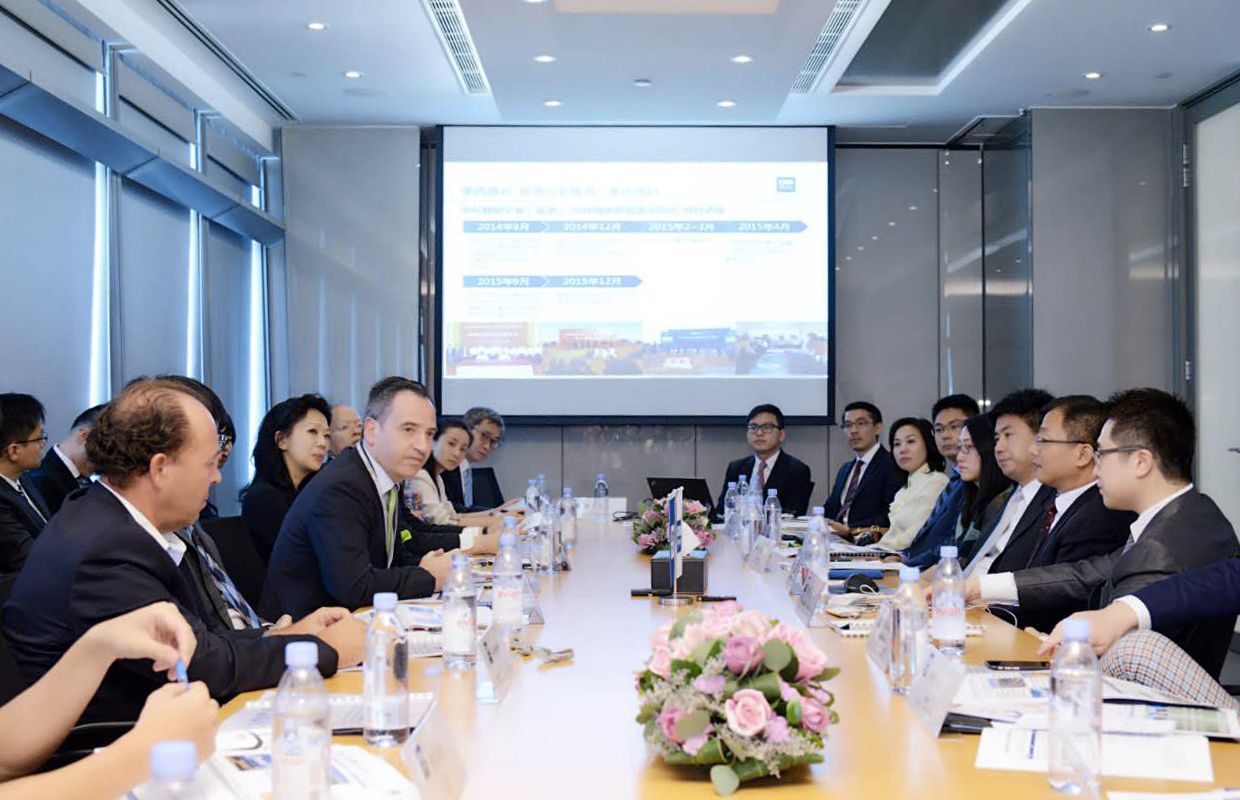 This meeting was hosted by CM New Energy and AMTD Group was responsible for overall coordination. This was another important interaction between CMI group companies and the international capital markets in Hong Kong, following CMI's 2016 Strategic Dialogue with Direct Investment and Investment Banking Leaders on 28 January in Shanghai and Merger & Acquisition and Investment Seminar of CM International Financial Leasing Corp in Hong Kong on 28 April. AMTD Group invited business leaders and senior management from world famous investment institution, investment banks and professional firms, including Mr. Enrico Andrea Mattoli, GFO Head for Greater China and Managing director of UBS, Mr. Daniel Vock, CEO of Acroma Management, a global assets manager headquartered in Switzerland, Brett McGonegal, partner, Chairman of Board of Directors and CEO of Capital Link, Mr. William Je, President of ACA Capital, Chongqing CPPCC members and Executive Chairman of the Hong Kong Youth Association, Mr. Simon Je, CEO of Neo Capital, Mr. Tang Zhiqiang, Vice President of RRJ Capital, Mr. Xie Chunyan, Senior Associate of PAG Group, Mr. Hu Yong, Associate Investment Director of Henderson (China) investment limited, and Mr. Leo Chan, Co-head of Investment Banking Department and Managing Director of ABC International, Mr. Yeyong, Assistant CEO of GF Holdings Hong Kong, Mr. Woo Sung Jung, Executive director of Investment Banking and ECM department of JPMorgan, Mr. Peng Zhifeng, Director of Citigroup Asia-Pacific Energy, Power &Utilities group, Mr. Zhang Zhihai, Director of UBS Investment Banking department, Ms. Constance Choy, Partner, Executive committee member and Head of Hong Kong Corporate Finance Business of Sidley Austin, Mr. Tom Deegan, Partner and Head of Energy Industry Business of Sidley Austin, Mr. Gavin Chui, Assurance partner of PwC Greater China Energy and Utilities group, and Mr. Chen Zhiqian, Partner and Head of Northern China Corporate Finance group of PwC.
Mr. Han Qinghao introduced the company strategies and business development. The innovative strategies and business model of CM New Energy were unanimously endorsed by all guests.
Established for over a year, CM New Energy has already invested almost 20 photovoltaic power generation projects in 8 PRC provinces. By the end of 2015, the construction scale of 1.4GW national PV power plant project was achieved, representing almost 10% of the total installation capacity of PV power plant projects in China, the highest in terms of capacity. In April 2016, CM New Energy was awarded as "2016 Best Comprehensive PV investment enterprise in China".
"Behind the rapid growth and the scale of development, CM New Energy has taken the strategies of combining independent development and investment; and unifying large-scale ground-mounted power plant and distributed generation development" Mr. Han Qinghao, President of CM New Energy stated, "At present, the Company is developing the CMI's photovoltaic project in Ningxia (Yanchi) with a total planned size of 2GW. It would be the world's largest single photovoltaic power plant after completion and the first national new energy integrated demonstration zone under the Thirteenth Five-Year Plan. Through the combination of "PV+" unique business model and CM New Energy's specialized and intensive operation model, to achieve the goal of unifying social and economic values."

Representatives from international institutions, including UBS, Citigroup, Morgan Stanley, etc. regarded Green Technology and New Energy as the investment focus of capital markets in the future. They believe, by virtue of its extensive industry experience and financial resources, CMI could effectively grasp the opportunities to upgrade these new energy industries and get the market leading position. Brett McGonegal, Partner, Chairman of the Board and CEO of Capital Link, mentioned, the new energy market has been waiting for the presence of large-scale enterprises. They have been giving special attention to the new energy industry for years, but it was mainly run by small-scale enterprises, which rarely have investment value. Through the large-scale investment, mass constructions and the professional operation team, CMI has briskly established a leading position in China's new energy private enterprises, with a sustained, steady earnings and considerable investment value.
The recent research by PwC reported that countries along "One-belt-one-road" are working on the planning and layout of new energy. Aiming to serve the national strategies and foster the industrial transformation, CMI is in pursuit of investment opportunities along the "One-belt-one-road" countries. They are looking forward to working with international partners to develop a new global energy market and build a world-class new energy operating group.